Between shipping, giveaways and printing, you can easily drop tens of thousands of dollars on a tradeshow.  Other than television commercials or forgotten PPC campaigns, they are one of the most expensive things a B2B marketer can do.  So generating a positive ROI is paramount.
How do you do it?
To start with, you're probably going to need to get some leads at the booth.  In order to do that you need to get people to go to your booth.  But everyone is walking by, avoiding eye contact and refusing to come say hi.
Here's how you get people to come to your booth against their will.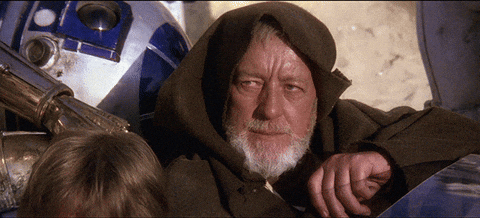 You can jedi mind trick someone into stopping at your booth in 2 simple steps:
Say hello
Shake their hand
It's that simple.
Step 1: Say Hello
Visualize the convention aisle.  It is wide and most likely you're facing a similarly sized booth on the other side.  Now cut it in half.  Any person walking on the opposite side of the aisle is off limits.  They're too far away.  Let them go.
Everyone on your side of the aisle is fair game.  They are in your territory.
Stand at the edge of your booth's carpet line – one arm's length from the aisle.
Pro Tip: No one sits at the booth.  Ever.
As people walk into your territory (directly in front of the carpet), compliment them.  Say something specific and honest.
"I like your shoes."
"I like your dress."
"Sweet tie."
"You are owning that hat!"
Whatever.  Make it genuine and specific.  If you can't do that, you probably shouldn't be working the booth at all.
People will instinctively stop, examine whatever you complimented, and then make eye contact to say thank you.  Test it out if you don't believe me.  Tell someone at work, as their walking past, "I like your [insert piece of clothing]."  They will stop, look at what you are complimenting, and then look at you to say thank you.
Why?
People examine what they're wearing because an unexpected compliment makes them
take pause to see why they are receiving it.  Many won't remember immediately what tie they wore that day so they have to check.
Then they look at you to say thank you because they're mamas' would smack them up side the head if they didn't. They were raised that the proper response to a compliment is "thank you".
Step 2: Shake Their Hand
As soon as you have made eye contact it's time to stick out your hand. You have their attention.  Time to reel them in.
Stick our your hand as if to shake hands and wait.  Don't move.
You can experiment with this at the office too.  Stick out your hand to a stranger and see if they shake it.  I'll bet you a dollar they do.
Why?
Because since you were a baby people have been walking up to you and shaking your hand.  It is so ingrained in your day-to-day routine that it is motor memory at this point.  It is considered painfully rude to ignore someone's outstretched hand and you do it unconsciously.
So just wait.  95% of the time, they will shake your hand back.  It feels weird not to.
Then you can direct them onto your booth carpeting and go into your elevator pitch.
Don't believe it works?  This is me pulling in 7 people at once by doing exactly this.  Say hello and shake their hand. Repeat. Works like a charm.